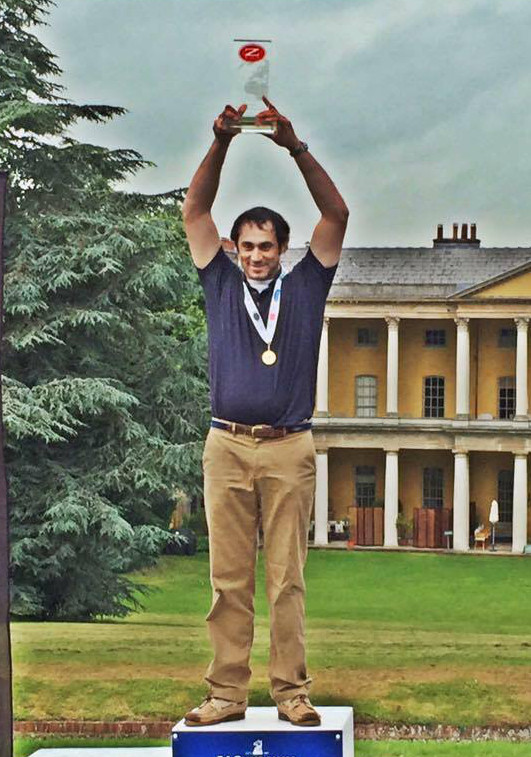 Anthony Matarese Jr. has become the first American ever to win the World English Sporting Championship, taking the individual Gold Medal last week on the E.J. Churchill Shooting Grounds in England. Matarese finished the regulation main event with a three-target lead and held the margin through the six-man super final shoot-off to earn the World Championship. Mike Wilgus also qualified for the super final and finished the competition sixth overall.
NSSA-NSCA's Clay Target Nation magazine recently profiled Matarese as a hard-working, driven competitor and for his wide-ranging activities in the sporting clays world, including being an elite-level shooter, instructor, and club owner, as well as his recent entry into trapshooting. In the profile, Matarese cited a World English win as one of his remaining professional goals, along with winning the World FITASC and participating in the Olympics as a trapshooter. You can read that profile here.
Members of NSCA's USA Sporting Clays Team also brought home both team and individual medals. Open, Ladies, and Junior teams earned Gold for the USA, while Veteran and Super Veteran teams took the Silver. Among individual shooters, team member Hunter Dreher won the Junior World Championship, and Dominic Gross earned the Bronze Medal.
Desirae Edmunds had a podium finish in every event, winning the Ladies Gold for the Prelim and Sportrap, Silver in FITASC, and Bronze overall. USA dominated the podium in the FITASC event. Bill McGuire won the event, while Kevin De Michiel finished as runner-up.
You can see all the World English Sporting Championship results here.