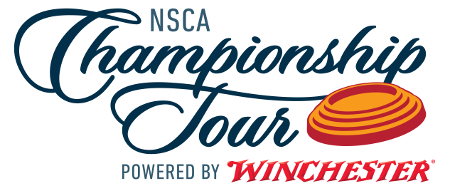 NSCA announces a new title sponsorship by Winchester Ammunition of the NSCA Championship Tour, now known as the NSCA Championship Tour, Powered by Winchester.
Winchester's title sponsorship of the tour represents an addition to its longstanding commitment to the shooting sports. "We continue to align our legendary brand among the millions of shooting sports enthusiasts," said Brett Flaugher, president of Winchester Ammunition. "The popularity of shooting sporting clays has risen and Winchester is excited to have its famous AA shotshell as the featured brand of ammunition on the NSCA Championship Tour."
The Championship Tour events have become NSCA's most prestigious and relevant tournaments, with implications for all of our major recognition programs. They also present the opportunity for thousands of our members at all levels and classifications to shoot alongside many of the best sporting clays competitors in the world. With Winchester's title sponsorship, the familiar NSCA trailer that travels to Championship Tour events and is a center of activity will be re-wrapped with the new "NSCA Championship Tour, Powered by Winchester" design. Winchester will provide giveaway items for tour events as well, including ammunition, shirts, and hats.
Each year, the Championship Tour consists of the five Regional Championships, U.S. Open, and National Championship, and in years when the World English Sporting Championship and/or World FITASC Championship are held in the U.S., they are also included. This year, the World English is being held at Northbrook Sports Club in Illinois and is part of the tour.
"The eight Championship Tour events are held at premier shooting ranges that will host hundreds of competitors over the course of several days," said Michael Hampton, Jr., executive director of the National Sporting Clays Association. "The support from Winchester is extraordinary, and it comes at a very important time as we continue to grow."
Winchester's has made a three-year commitment to serve as title sponsor.
You can find the events and plan your participation in the NSCA Championship Tour, Powered by Winchester, at nsca.nssa-nsca.org/nsca-championship-tour/.