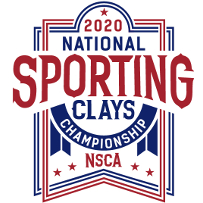 The NSCA and National Shooting Complex will implement a comprehensive list of COVID-19 protocols to reduce risks and prioritize the safety of our 2020 National Sporting Clays Championship participants, guests, vendors, and NSC staff. Below are the protocols we will follow:
We will check the temperature of shooters going into Registration. 

All shooters will receive a face mask and a small bottle of hand sanitizer in their goodie bag.

Squads will be asked to maintain social distancing in the field, i.e., 6 feet between shooters waiting their turn to shoot. 

We will minimize the number of workers and shooters inside Registration at one time.

Plexiglass barriers will be used in Registration, the Pro Shop, and Ammo Building to protect the shooters and staff. 

Tables and chairs at the Club House and patio are spread out to facilitate social distancing.

Masks are required at all times inside any building and in all other areas where social distancing cannot be maintained.

We will take the temperature of referees and loaders every morning prior to shooting.

There will be no communal water jugs or coolers provided on the field. Instead, staff members will distribute bottles of water on the fields prior to each flight. 

To discourage congregation of shooters, there will not be a printed scoreboard. Shooters will need to look online to see the scores or at TVs spaced out outside Registration and at the Club House. 

There will be an EMT onsite during all shooting flights. They will be available to take the temperature of anyone who needs it and help as needed for medical issues. 

To discourage on-site shopping, we will encourage participants to pre-order event merchandise for pick-up during registration and will have very limited quantities of merchandise for sale at the event. 

We will not host social events, i.e., the Hall of Fame Banquet, that do not allow for social distancing.