Your 2023 NSCA Member ID and Classification Card are now ready for you to review and download.
If your Classification Card indicates that you have been down-classed in the 2022 end-of-year review, you may refuse the down-class in writing. You may either return the Refusal Form at the bottom of your Classification Card or email your request to nbowers@nssa-nsca.com. You also have the choice of opting-out of the end-of-year-review process for future years; please indicate your request to do so along with your written request refusing your current down-class.
For the 2023 shooting year, the NSCA Executive Council has approved carrying over SUB-GAUGE ONLY punches from 2021. This means that your current punch count in Sub-Gauge classification includes all sub-gauge punches from shoot years 2021, 2022, and 2023.
Your member credentials and links to benefits are waiting for you at MyNSCA.com. Simply login using your member number, then navigate to the Members menu and choose My Home Page. If you haven't created a login yet, you'll need your member number to get started. When prompted to create your password, please do not include any special characters (ex.: ! # $).
You'll see a page that looks similar to this example, with your name and membership info: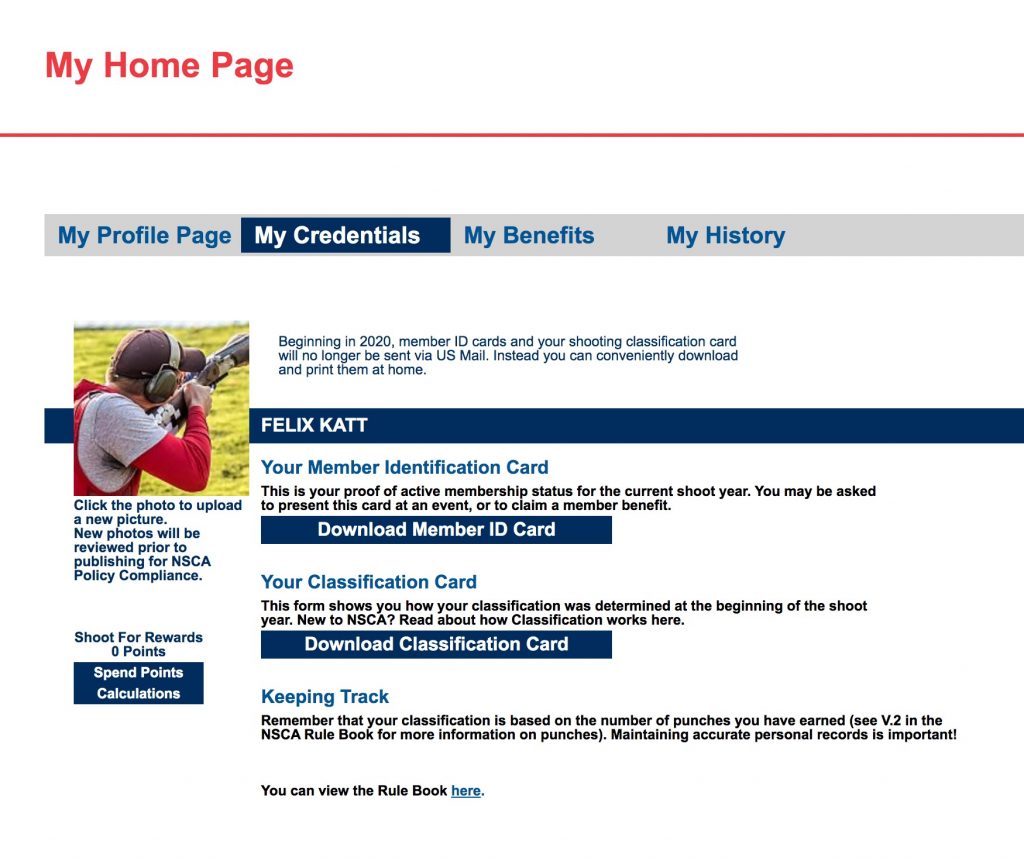 Choose My Credentials to view and download your Member ID card and your Classification Card. There is a letter with your class card that includes the latest rule updates and other important information.
A tip: Download the member card to your smartphone and store it there for quick and easy proof of current membership at your next registered event.
Choose My Benefits to explore your 2023 member benefits, like discounted gun floater insurance from Sportsman's Insurance Agency, Inc., your monthly Clay Target Nation magazine, Shooting for Rewards points, and more.
There's a lot to do within My Home Page: Read through the 2023 Member Benefits Guide. Upload a photo. Explore the links. It's where you'll always find your most current credentials and information.
And while you're thinking about it, go ahead and download the latest version of the NSCA Rule Book. It is updated throughout the year, and the most recent edition can always be found in the Members section of MyNSCA.com.
When you have questions about your membership, we're here to help. You can reach Member Services at nsca@nssa-nsca.com or 210-688-3371 ext. 961.