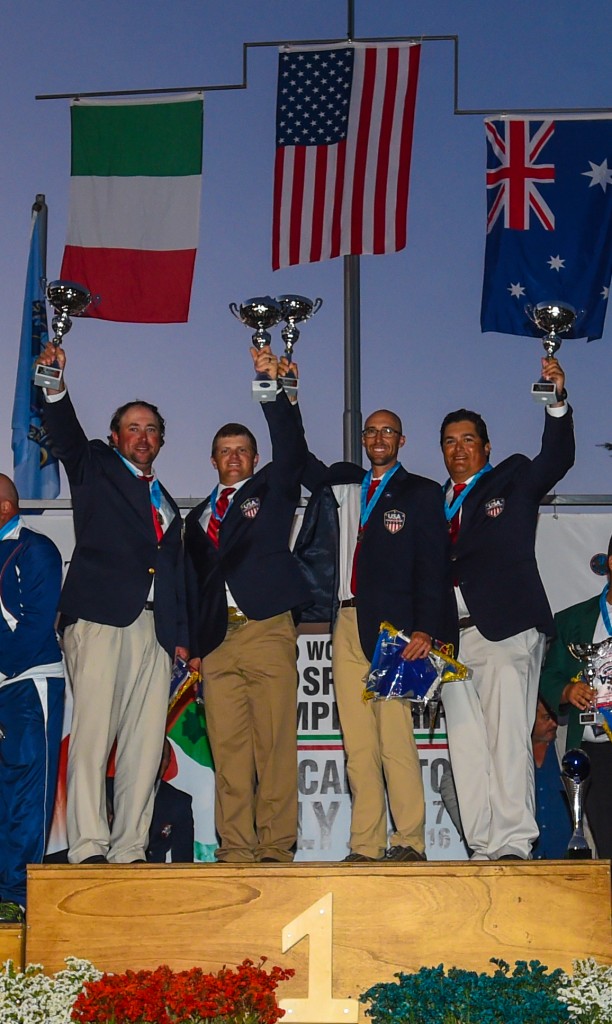 American shooters have dominated the world stage yet again with new World Championships for both individuals and teams at the 2016 World FITASC Sporting Championships in Italy. Derrick Mein is the new World FITASC Champion, becoming the second NSCA shooter in less than a month to top the podium at a world event, following Anthony Matarese Jr.'s World English win.
Hunter Dreher also won the Junior gold medal for the second time in as many competitions, winning back-to-back Junior World Championships at the World FITASC and World English.
Sharing the podium with Mein were England's 26-time World Champion, George Digweed, at runner-up and third-place Anthony Matarese Jr. NSCA FITASC Team member Kevin DeMichiel finished in fifth place overall.
The USA FITASC Team also brought home gold medals for the Senior (Open) team comprising Derrick Mein, Kevin DeMichiel, Gebben Miles, and Zachary Kienbaum; Junior team with Hunter Dreher, Dominic Gross, and Braxton Oliver; and Super Veteran team with Gary Walstrom, David Cole, and Jack Concannon. The Veteran team of John Woolley, Nadim Nasir Jr., and Brian DuQuesnay earned the silver medal, while the Ladies team of Desirae Edmunds, Diane Sorantino, and Tina Jewell took the bronze.
Click here to see complete individual and team results.
Congratulations USA shooters!