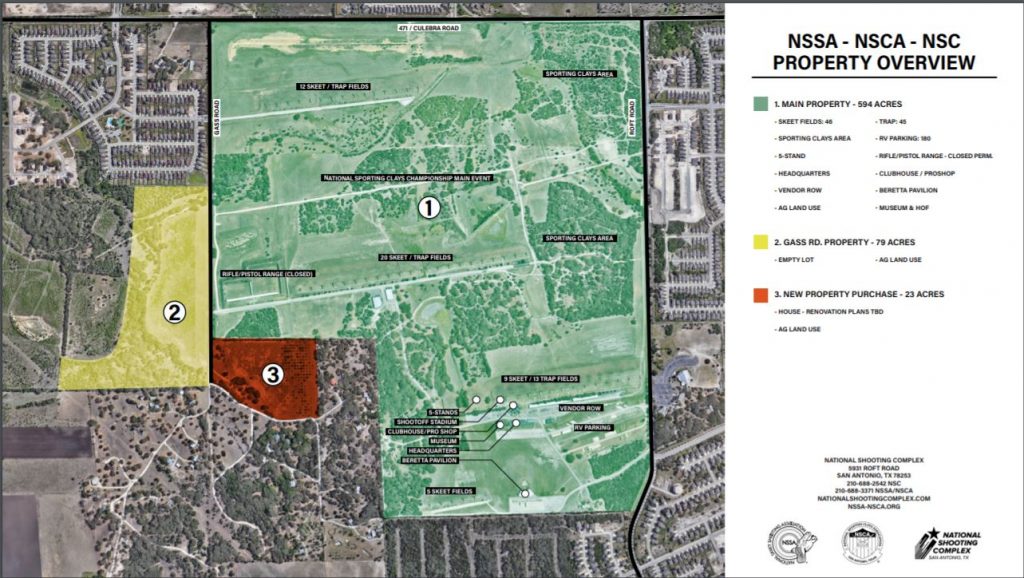 On December 31, NSSA-NSCA completed the purchase of 23+ acres adjoining the National Shooting Complex that creates a buffer from development and helps protect the association's investment in its San Antonio, Texas, property.
The land purchase is an important investment in the future of the National Shooting Complex, preventing any type of encroachments of residential or commercial development adjacent to our property boundary. This investment received unanimous support from the joint NSSA-NSCA Finance Committee and the Executive Committee.
"The NSSA-NSCA bought this property as a buffer from the continuous growth that we're seeing around the National Shooting Complex," said Michael Hampton, Jr., NSSA-NSCA Executive Director. "We've long wanted to add this property to the complex, and we are very fortunate that it became available to us at a time when we were able to leverage the market strength and our futures portfolio to do this purchase without encumbering the association with long-term debt."
The property adjoins the southwest side of the National Shooting Complex that has access off Gass Road. Twenty acres are under agricultural exemption. It includes a 2300-square-foot house and a deep, large-capacity well. It has almost 500 feet of frontage on Gass Road, and one side of the property has a gravel road that separates it from neighboring property. It has a 1200-foot common border with the original NSC property.
"As we all know, land is something that they will not make any more of, and when the opportunity arises to buy some that attaches to our current 600 acres, we need to take it," said Hampton. "The property had been in the Skolaut family for over 70 years, and the family gave the association the first opportunity to buy this land, as we have been good neighbors to them. At closing, Mrs. Skolaut's daughter said, 'It's sad to see it go, but we're happy, and I know my mother is happy, that it's going to the gun club.'"
For questions about the property acquisition, contact Executive Director Michael Hampton or an NSSA-NSCA officer.